Every Picture Tells a Tale: Art workshop for families
Every Picture Tells a Tale: Art workshop for families
Come and join us to make a giant picture book of people and places – using pens, paint, fabric and your imagination!
We will gather all your stories and pictures together in a big book and share them together at Enderby on Thursday 19th August.
TO BOOK: email Lals.familylearning@leics.gov.uk with details of how many adults and children will be attending the event.
The tutor will contact you to complete your enrolment for the event.
If you would like more information about the course before you enrol please email kate.horstcraft@leics.gov.uk
Duration: 2 hours
Tuesday 10th August 2021
Enderby Adult Learning Centre
10:00 am
Everyone welcome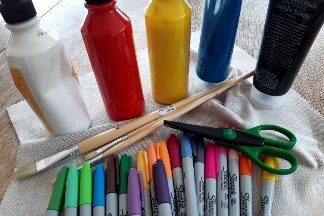 The Family Learning Team is part of Leicestershire Adult Learning Service and provide a wide range of learning opportunities for families throughout the year. They are community based and are all experienced tutors and learning experts who can support both children and parents.