Great Glen Community Library – Engagement Event
Great Glen Community Library – Engagement Event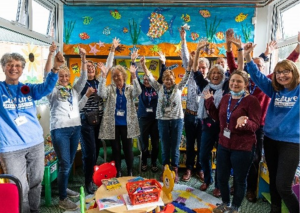 On Saturday 5th November 2021, Great Glen Community Library volunteers and trustees with support from the Participation Team held a community engagement and volunteer recruitment event.
The aim of the event was to raise the profile of the library after a long period of closure due to the pandemic – a reminder to the village that the library had reopened and was looking forward to being that community hub once more.
Funding from the Cultural Communities Network programme covered the design costs of a flyer to promote the event and the library. The flyer was posted through the door of every household by library volunteers and displayed on notice boards and social media.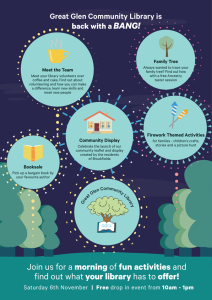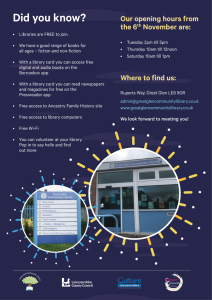 Back with a Bang!

On the morning itself, the library was a hive of activity and community members turned out in great numbers to join the library, find out about volunteering opportunities, share their ideas for groups and activities and browse the bookshelves for their next favourite read.
Children enjoyed listening to stories and getting creative with some fireworks themed arts and crafts.
Residents from Brookfield Independent Living Accommodation, who had moved to the village during the pandemic, volunteered their time too, leading storytelling and serving refreshments. It was also the perfect event to display their lockdown artwork and share copies of a Great Glen wellbeing leaflet they co-produced and created.
Find out more about Great Glen Community Library here: https://www.greatglencommunitylibrary.co.uk/