Our Cultural  Ambassadors – a successful partnership between learning and volunteering
Leicestershire County Council's Adult Learning Service (LALS) supports local people with multiple and complex learning disabilities through Independent Living and Skills for Life courses.
We really enjoy working in partnership with the team to provide these groups access to exciting and flexible cultural volunteering opportunities.
The groups we support are The Bosworth Explorers, Coalville Correspondents, Harborough Heroes and The Loughborough Local History Volunteers. These groups are taught by a LALS tutor and work towards accredited awards in subjects such as art, communication, independent living, ICT etc, whilst also focusing on projects linked to our heritage, collections, libraries and archives. Check out some of the projects that these groups have been involved in!
Celebrating the 200th anniversary of the first dispensary in Loughborough
The Loughborough Local History volunteers (previously known as the Charnwood Practitioners) took part in a project on the history of medicine, in celebration of the first dispensary in Loughborough.
The group had an exciting session with the Creative Learning Services team where they learnt about Florence Nightingale, the founder of modern nursing and got the chance at having a go at bandaging one another and using an old-fashioned pill maker (with blue-tac of course!)
Supported by the Loughborough Library Local Studies Volunteers, they also researched and created a leaflet on 18th Century Cures and their work featured in an exhibition in the Library.
Check out the leaflet here, which also features their own artwork.
But remember…don't try these recipes at home!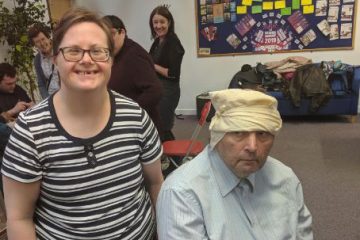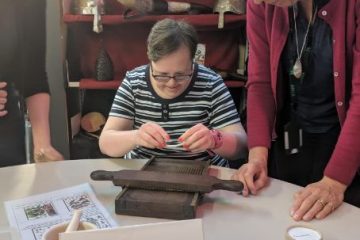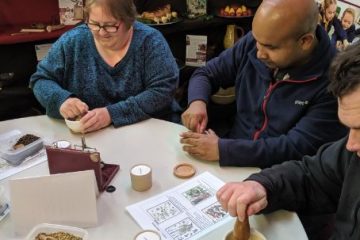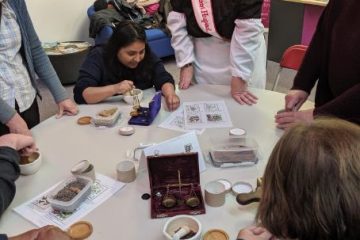 Connecting Theatre and Heritage
The Coalville Correspondents group chose to research the history of the Century Theatre. Now based in Coalville, Leicestershire, this theatre used to tour the country.
The group did lots of research, which included a visit to The Record Office for Leicestershire, Leicester & Rutland. Here they found out more information about where the theatre had travelled, and which stars graced the stage. I bet you didn't know that one of those stars, is none other than, Dame Helen Mirren?
They have created two fantastic displays; a timeline of the history of the theatre along with a Hall of Fame poster. These were unveiled at a launch event in June 2019 to staff, parents and carers, and are now featured in the theatre. When you visit for a show be sure to keep an eye out for them!