Desford Community Library Family History Group
Desford Community Library Family History Group
Leaders and volunteers were very knowledgeable and keen to share that knowledge with the group
‐ Participant
It took me away from problems for two hours, it was nice to meet new people and hear their family history too
‐ Participant
Great that it was on my doorstep, so no travelling time involved
‐ Participant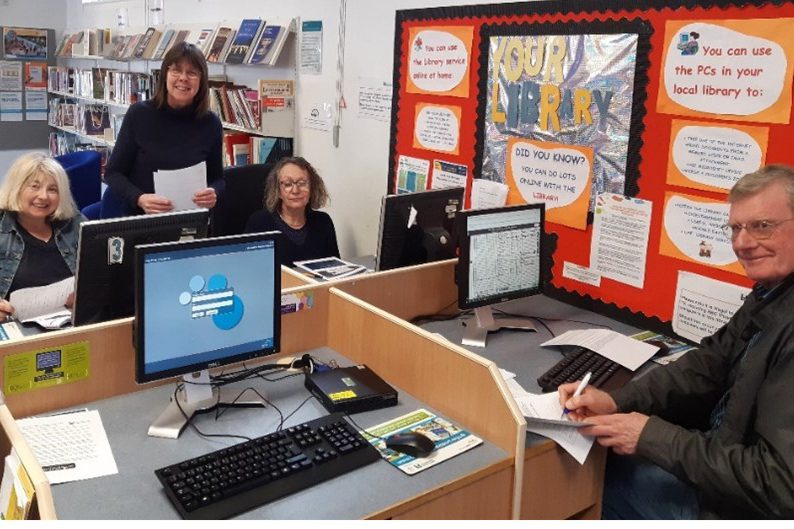 In January 2022, the Participation Team met with Desford Community Library, the Local Area Coordinator and VASL Support for Carers to understand how funding from the Cultural Communities Network programme could support the health and wellbeing of individuals living in Desford with caring responsibilities.
Feedback gathered from individuals was that connecting weekly with others in a community space would be most welcome and they all really liked the idea of researching their family history whilst gaining some new skills.
The library space provided the perfect relaxed and friendly environment, and the sessions were led by a Participation Team member and supported by a local volunteer, with a passion for family history. The group shared their stories and discoveries, whilst being guided through the basics of family history and learning how to use Ancestry library edition to search the census, birth, marriage and death records, as well as a bit about other resources available, such as The Record Office of Leicester, Leicestershire and Rutland.
The sessions were a great success and four of the participants have got involved with a family history group for the wider Desford community which is due to launch in June as part of Desford's Heritage Festival celebrations.
Find out more about Desford Community Library here https://www.desfordparishcouncil.co.uk/