Wednesday 18th August 2021
Create a Story Box
A Story Box is created with a small box that decorate to form the scene of a story, the one pictured is based on the story of Little Red Riding Hood, but you might want to create your own story or use another book for inspiration, please bring your favourite book if you wish. We will then make stick puppets so you can use your box to retell the story, using it as a little theatre.
TO BOOK: email Lals.familylearning@leics.gov.uk quoting the code 21LB104P with details of how many adults and children will be attending the event.
The tutor will contact you to complete your enrolment for the event.
If you would like more information about the course before you enrol please email: Alison.Heathcote@leics.gov.uk
Duration: 2 hours
Wednesday 18th August 2021
Moira Centre, Moira St, Loughborough, LE11 1AX
10:30 am
Families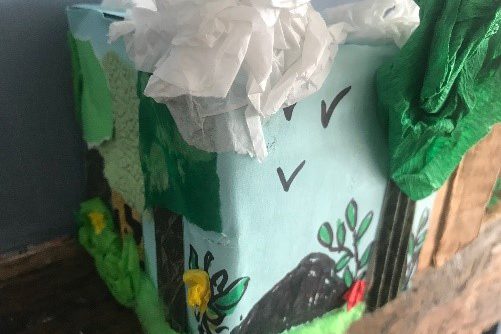 The Family Learning Team is part of Leicestershire Adult Learning Service and provide a wide range of learning opportunities for families throughout the year. They are community based and are all experienced tutors and learning experts who can support both children and parents.