Warts and All: Play in a Day
Thursday 19th August 2021
Warts and All: Play in a Day
Participants will engage in an exciting co-created project which allows their voice to be heard. Through a practitioner led, full day of workshops and rehearsals, participants will explore themselves and where they come from and will be guided to turn these ideas and thoughts into a short devised performance that will be shared at the end of the day.
10am-4pm
Thursday 19th August 2021
Oadby Library
10:00 am
Ages 9-12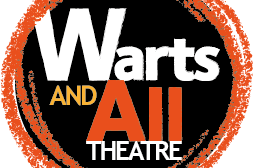 Warts and All Theatre delivers extraordinary theatre in unexpected places. With radical acting programmes for all ages in Northampton, Coventry and Wellingborough, and supporting developing theatre producers, we aim to give everyone a voice, and allow everyone to speak their truth. Creating extraordinary theatre with all, in unexpected places.