A snapshot of life during the Pandemic

A snapshot of life during the Pandemic
A snapshot of life during the Pandemic
The Covid-19 pandemic has affected everyone, and it's part of our lives now and it will become a part of our history. We were interested to find out what life has really been like for young people across Leicestershire during the pandemic and lockdowns. We designed and launched a survey for young people aged 13-25, to capture and record their experiences so that they can be shared with future generations.
Over 45 young people got involved! This is a snapshot of what their life was like during the Covid-19 pandemic.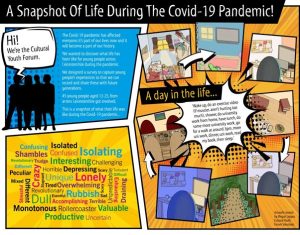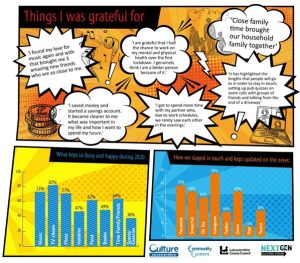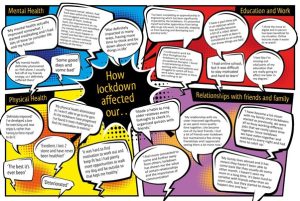 This project was developed and lead by the volunteers of the youth forum. Alongside designing and writing the questions for the survey they also researched where to promote it.
They were involved in every step of the design process from researching creative ways to display the information, to creating a design brief; choosing the content and what quotes to share and designing some of the artwork.