Discovering great literature through Shared Reading
Discovering great literature through Shared Reading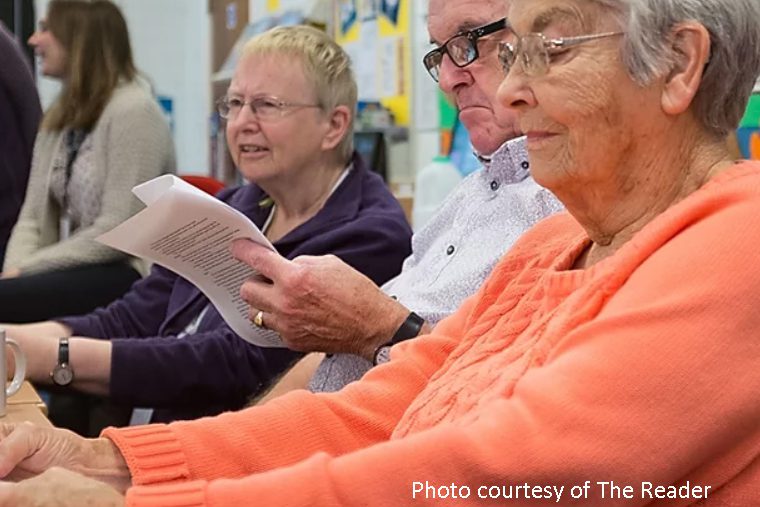 Shared Reading groups bring people together through great literature to talk, laugh and share. Each week, the Volunteer Reader Leader brings a story or poem to read aloud, and throughout the session the group pauses to reflect and share their thoughts and connections to the literature.
There are currently 9 groups across the County, which are facilitated by the volunteering community group Leicestershire Shared Reading. Since their launch over 500 local people have attended! What an amazing reach to local communities!
Covid-19 and lockdown-related site closures meant that during 2020-2021 many of these groups had to be suspended. This didn't stop the volunteers and they came up with creative and new ways to keep engaged with their group members.
An inspiring virtual Shared Reading experience
By Terri Eynon, Shared Reading Group Facilitator Volunteer:
"Ten members (including three facilitators) had their first virtual Shared Reading Group meeting on WhyPay – a teleconferencing service that uses an 03 number which costs the same as a standard call or is free as part of your bundled minutes. This was a brave move for many of our group. Although one member (my son, 28) would count as an internet baby, many are members of an earlier generation that is somewhat nervous of technology. This, as well as the cost, lay behind the – necessarily rapid – decision to pick a relatively old-fashioned method of communication which can be accessed by landline as well as phone."
At a time when people are more isolated than ever, it's fantastic that the Reader Leader volunteers have found new and creative ways to use literature as a means of bringing people together. Four groups are now holding virtual meetings and the volunteers continue to share poems and stories with groups who either cannot or prefer not to join up using technology.
 The Pleasure in Sharing Literature
We read Kurt Vonnegut's 'The Man without no Kiddleys' and I couldn't resist following this up with one of the Shakespeare sonnets – 18 – which begins 'Music to hear, why hear'st thou music sadly? / Sweets with sweets war not, joy delights in joy.' As is usual for this group, they doubted their capacity to make sense of the poem – but gamely got into reflecting on certain passages. The poet appears to be discouraging 'singleness'. He uses a musical analogy, suggesting that a chord of three notes, 'resembling sire and child and happy mother….all in one, one pleasing note to sing.' This brought to mind the pleasure the group felt meeting together today and how pleasurable it was to share literature with one another.
A virtual success
There were a few technical hiccups. Voices are of variable quality. One member's call dropped out, but she managed to ring in again successfully. We were lucky that we had already planned to read a short novel fairly soon. We were lucky that I was able to get hold of a book set just before lockdown. We were lucky that – presciently – I rescued the books from Coalville Library on the Thursday before the libraries closed. We were given great support by the Library staff who remain encouraging at a distance.
Time will tell if this method continues to work for our group, but so far it is very encouraging."
Leicestershire Shared Reading volunteers continued to develop their response to the ongoing pandemic situation and quickly introduced Zoom sessions. These were so successful that the group have continued to provide this digital offer alongside the face-to-face sessions
Looking for a book club or reading group? Interested in volunteering in this role? Visit https://www.leicestershiresharedreading.org/ to find out more!