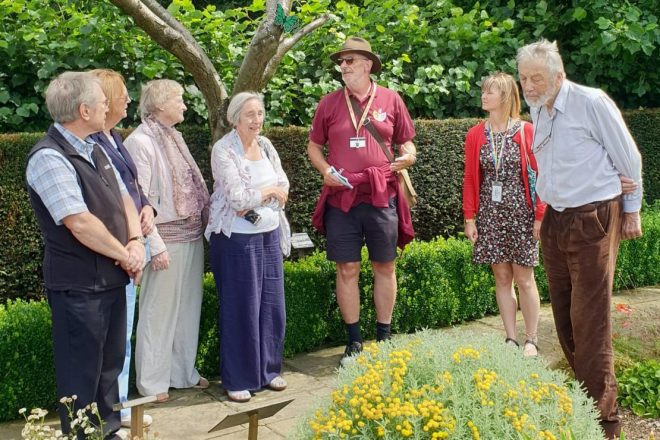 Wednesday 18th March 2020
What does a Liquorice plant look like and other reasons to explore uncharted paths.
Volunteering at the 1620s House and Gardens
I've been growing vegetables for most of my adult life in various gardens and allotments where I have lived. When I retired three years ago I got wind of a proposal to open up a vegetable garden at the 1620s Manor House at Donington-Le-Heath, specialising in growing vegetables that would have been in cultivation in the seventeenth century.
Donington is only about six miles from my house so on the doorstep really, no excuse. However as with most new or unchartered situations in my life there was a lot of prevarication. Would my self-taught, homespun horticultural knowledge look rather silly and inept against, what I presumed to be a wealth of technical skill and experience that already went into the management of the gardens at Donington?
Anyway I took the plunge and I was so wrong, wrong to feel apprehensive. Yes the skill and experience was already there in abundance among the existing volunteers but I was warmly welcomed. From the start I felt that I was making a contribution and that my experience, however homespun, was appreciated and valued. This acknowledgement of worth and value is so important post retirement when you no longer have a manager to tell you that you're doing a good job or you no longer have that feeling of fulfilment when a project you've been working on comes to fruition.
So three years into my volunteering at Donington we now have a gardening team of around ten volunteers, each with their own specialist area of expertise but all with a collective will to maintain and develop what is a magical garden at the 1620s house. I look forward to our Thursday morning sessions and banter and camaraderie of people who I now regard as friends not just fellow volunteers.
It's so satisfying and good for the soul to be in the garden on a sunny summer's day in late June with the heady smell of roses in the air, chatting to the public, passing on knowledge and learning things in return, snatches of low conversation with the gentle clinking of crockery from the Barn café patio.
And It's got me curious about other aspects of gardening, "What does a Liquorice plant look like, why did they grow it in the 1620s, which bits of it did they use and for what, how do you propagate it, how do you take cuttings from other herbs?" …and so on to the extent that it's prompted me to apply successfully to do an RHS entry level course in horticulture at Brooksby College starting this autumn.
A friend told me recently that he thought retirement was more like a career change than merely stopping work and I think he's right. You've got to make the effort to do things and you've got to keep challenging yourself but the difference is that in retirement, you choose to do the things that interest you rather than follow bullet points on a job description.
More blogs
Friday 11th August 2023
Article by Moosa – Undergraduate student at the University of Leicester As…
Tuesday 25th July 2023
What a hugely exciting and inspiring Visioning a Creative and Cultural County…