Heritage of South Wigston
Heritage of South Wigston
The Do You See What I See? South Wigston group met weekly at the Menphys Hub on Bassett Street to explore our heritage and shared history. We started in November 2020 and after a break because of lockdown finished in June 2021.
Our project has been looking at what makes South Wigston's heritage unique.  Here are the stories, places and memories that make South Wigston special to us. Are they special to you too?
We discovered people have been living in South Wigston and the surrounding area for millennia. The name Wigston comes from Vikingstun. South Wigston has seen it all over the centuries, we were excited to find out there is even a plague pit under the allotments!
The Fairfield Estate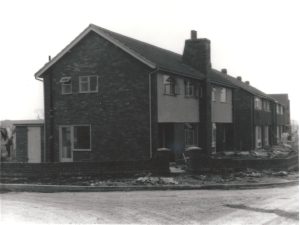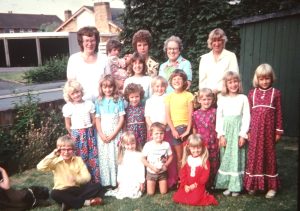 The Fairfield Estate being built in the 1960s                                                                                                                                   A birthday party on the Fairfield Estate
The Fairfield Estate was built in the 1960s. Some of our group lived there and have memories of raising their families.
"The kids went to school on Bassett Street, twice a day we'd be to and fro with a coach pram with a seat on it"  Peter
"As most of us with young children at home were quite hard up, we women took up outdoor work.  We did an assortment of work, usually very poorly paid home work. Among them were hand folding tights, making teddy bears, making bows for leather sandals. We would meet in each other's homes for a cuppa and do the work as we talked. One many of us did was making Diddymen. They were leprechaun type people from Ken Dodd's shows. All the parts were delivered separately to be assembled into small wooden dolls, about 4 inches tall." Carole                                   
Orson Wright built much of South Wigston                                                                                                                                                       The Fairfield Estate 2021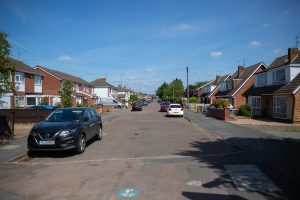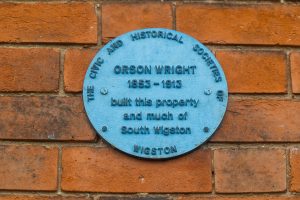 The Ritz Cinema and Bingo Hall
"We enjoyed films at the Ritz cinema for several years. Then it was into a part cinema, part bingo hall. My small son wondered how the people playing bingo downstairs could see to play while we were enjoying a film in the dark. We never let him forget it!" Margaret

    The Ritz 2021                                                                                                                                                                                                                             The Ritz Bingo Hall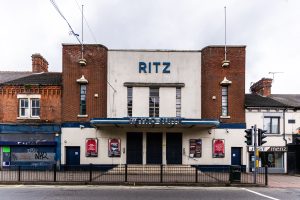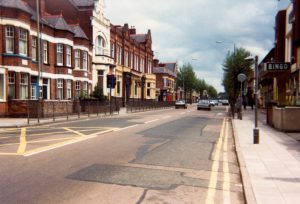 "They say Leicester clothed the world, but South Wigston had a good go too!" Margaret
"I started collecting bobbins not long after I started to do lace, I collect bobbins with dates on, birthdays, grandchildren's birthdays, anniversaries, lace days I've been to. When you're using them, the different bobbins, it brings back the memory of the time you brought them. A birthday, or your grandson, granddaughter, days that you spent making lace with people. They're just great memories, they're really beautiful and it's a pleasure to use them. The bobbins are my history, things that I want to remember." Theresa

To read Theresa's blog click here.

The Bobbin Factory 2021                                                                                                                                                                                                    Theresa's Bobbins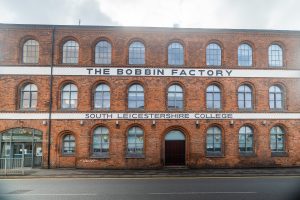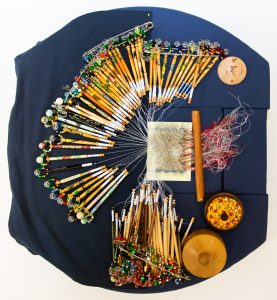 House of Lavinia
"House of Lavinia was a local factory based in Lavinia House on Saffron Road. They building is now the tile warehouse and martial arts club. My mother was one of their sample machinists with the company asked if she could train me to become a machinist at home (she thought it would be better paid than making diddymen). They delivered an industrial machine to my home and my commercial dress making career began. To start I made chiffon scarves, which were pressed before returning, and progressed to trousers, tops and dresses.

I worked for Lavinia for a couple of years before transferring to Ladies Pride, another factory in Wigston, and ended up making evening dresses for Harrods." Carole

A Lavinia jacket from 1980s                                                                                                                                                                                                 Ladies Pride label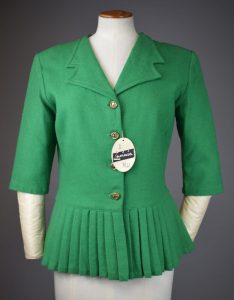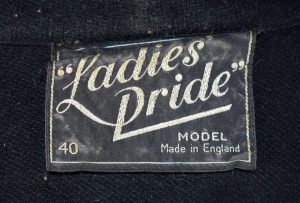 Orange Tree House

It has since been a Catholic Chapel, an off license and hairdressers. Orange Tree House was originally built by Orson Wright for his sister.
"Orange Tree House was an off license, we used to know the owners, Roger and Denise. They moved here from the shop on Fairfield Estate, the place was in a bad state and Roger organised work parties to strip out rotten wood and chisel plaster from the walls. It was mostly friends from the Fairfield Estate.  I used to go in here for a haircut regularly." Peter
Segments Hair Salon in Orange Tree House, circa 1985                                                                                                                                   
Orange Tree House 2021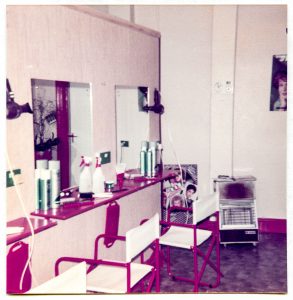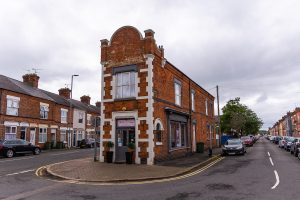 Blaby Road Park
From the earliest houses built by Orson Wright, to the new estates, open space has been important in South Wigston.

"In the pandemic we have played in the park all the time, it's something we've been able to do with the children." Emma

"Blaby Road Park is situated in the heart of South Wigston. It means so much to me, as I have watched my children grow through the years enjoying this play areas. It is a lovely park for children and adults alike, why you can socialise with others and enjoy outdoor space." Paula

Grace, Amelia and Daniel in Blaby Road Park                                                                                                                      Paula's girls, Grace and Amelia                                                                                                                    Blaby Road Park 2021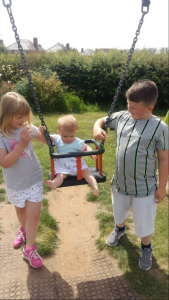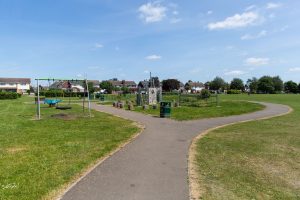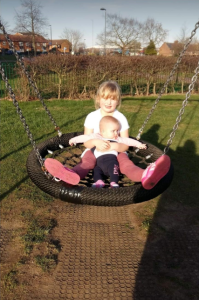 Menphys Hub, Bassett Street
When Orson Wright built the 'old' South Wigston he built schools too. The school building on Bassett street has been used for lots of things over the years.
"I came to dog training classes here after the school had moved to its new site." Theresa
Today the school is a library and community hub, run by Menphys. As well as borrowing books, enjoying a cuppa in the café and browsing the shop, people can book rooms for all sorts of activities and groups! No longer a school, Bassett Street remains a vibrant community hub.
We have been meeting at the Menphys Hub, Bassett Street, over the last few months as we have delved into our heritage.
Menphys Hub, Bassett Street 2021
Our group outside Menphys Hub April 2021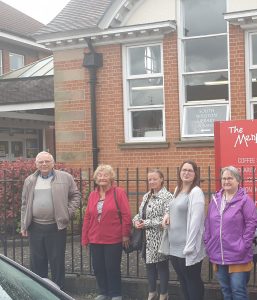 St Thomas's Church and Church Hall
"Our children were christened here. As our little girls grew up this place as many memories. Every Saturday morning bringing them to ballet/tap lessons. The staircase crammed with young girls in tutus. Going to and from lessons and mums piled high with coats and bags etc. There were many concerts there too." Peter

St Thomas's Church Hall 2021                                                                                                                                               Peter's daughter dressed up for a dance show