Library Logo Design Competition
Library Logo Design Competition
Over 150 children from the Glen Parva area entered a library logo competition where they were challenged to design a logo for Glen Hills Library and Park Café.In celebration of National Libraries week, the library and cafe launched their winning design.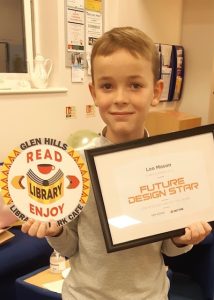 Pictured here you can see Leo the "Logo Legend" receiving his prize from the designer who helped turn Leo's concept and initial drawing into a graphic image that could be used in all future marketing. Leo also received a special mug featuring his logo which will now be on sale at the library if you want one too!
Alongside Leo, 15 Runners-Up were invited to receive a goody bag full of freebies: a balloon and a bookmark displaying the fabulous new library logo!
The children thoroughly enjoyed participating in a fun "true or false" quiz which got them thinking about all the wonderful things their local library can offer them – which is all for FREE!
A treasure hunt style short questionnaire enabled the children to write down their own ideas and suggestions about what they would like to see on offer at their local library. Responses were varied ranging from crafts and making art to the idea of a clown juggling books which would certainly be a great crowd pleaser and one to look out for at the next event!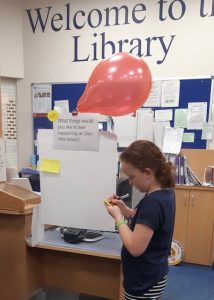 They also explored the idea of creating a Library Ambassador role in their school to help promote the use of Glen Hills Library. The Community Participation Officer encouraged the children to think about the role of a library and why it is so important to learn to read. Marcus Rashford made the perfect modern day example to demonstrate how a celebrity figure has used his status to make positive change and campaign against racism, homelessness and child hunger in the United Kingdom.
The Glen Hills Together team went on to use this insightful consultation feedback to inform the next steps in helping the library serve the needs of its local community by supporting people of all ages and backgrounds to connect, share and learn together.
We can safely say that the Logo design competition was a huge success and has clearly left a fantastic legacy for all of the Glen Parva residents to enjoy. Why not go along to Glen Hills Library and Park Café and see Leo's logo on display and enjoy a 'cuppa' and cake from the superb café on site!