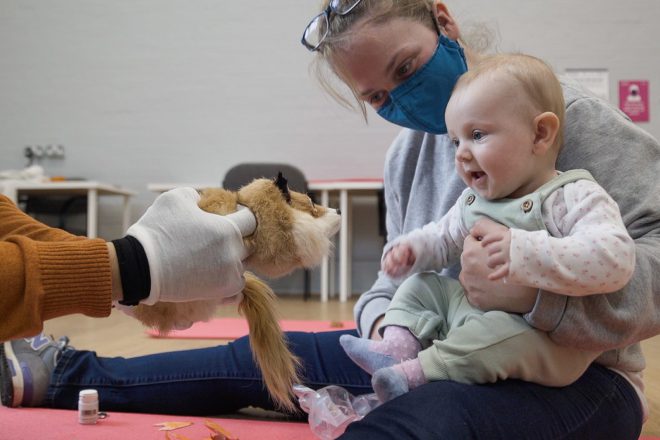 Wednesday 3rd February 2021
Creating cultural communities – an exploration through music and art
"Picture a grey wet November morning. The location is a small room in an arts centre with 6 sanitised yoga mats, 3 musicians and some parents with their babies and toddlers. It's day 1 of a 6 week project to provide music and art sessions exploring the local culture of South Wigston. The musicians haven't performed since March and the families haven't attended any group activities for months.
This was the start of BabyGigs' project at the Menphys Hub. We had no idea who would turn up and the families were unsure what to expect. However within minutes, any sense of uncertainty disappeared as we played them a huge variety of music – from Vivaldi to Queen! Smiles, dancing and singing along began. A similar reaction happened when our artist first arrived, with uncertainty transforming into enthusiastic participation. From initial shyness the parents and children opened up, happily composing songs, taking part in musical games and puppet making. A fox puppet became a favourite of one girl and another fell in love with the violin, whilst parents began talking to one another.  Taking a nickname for the Leicestershire fox, we turned ourselves and the attendees into 'Musical Bin Dippers', looking for adventure! Local landmarks provided inspiration with the old Ritz cinema becoming the focal point for a mini-show in week 6. Connections with the factories, canal and a mysterious music hall star helped fuel our project. As the weeks progressed the parents and children grew in confidence socially and they became equal partners as they used their imagination to create music and art. The final sessions were magical with everyone taking part in a musical story based around the heritage of the area.
BabyGigs was founded in 2014 to provide high-quality live music experiences for 0 to 5s and their families. As a parent I had experienced the difficulty of taking a small child to a grown up concert. I knew how responsive babies and young children are to live instruments, but that they need to be free to express their responses. From a few concerts in Market Harborough, the audience has grown and we have branched out into different venues around Leicestershire, including partnerships with schools. Our ethos is to always put the child first. Each concert lasts around 45 minutes and will consist of a huge variety of styles and moods, designed to keep children's attention as well as provide some culture for their families: we have had everything from trombones and drums to flutes, harps and clarinets, all presented by some of the country's leading professional musicians. We also do workshops for primary-school children, and creating original staged musical stories with small groups of players, often in collaboration with other artists.  Our KoolGig concerts reach out to the whole family as we believe that good quality music is for everyone – we don't like to put an age limit on our events!
The pandemic has been devastating for performers. For BabyGigs to be able to connect with others and bring some joy during lockdown number 2 was uplifting. We valued the opportunity to show that there is no 'classical' in music, just something that that can resonate with everyone."
– Eleanor, BabyGigs
More blogs
Friday 11th August 2023
Article by Moosa – Undergraduate student at the University of Leicester As…
Tuesday 25th July 2023
What a hugely exciting and inspiring Visioning a Creative and Cultural County…